Countering Hate Speech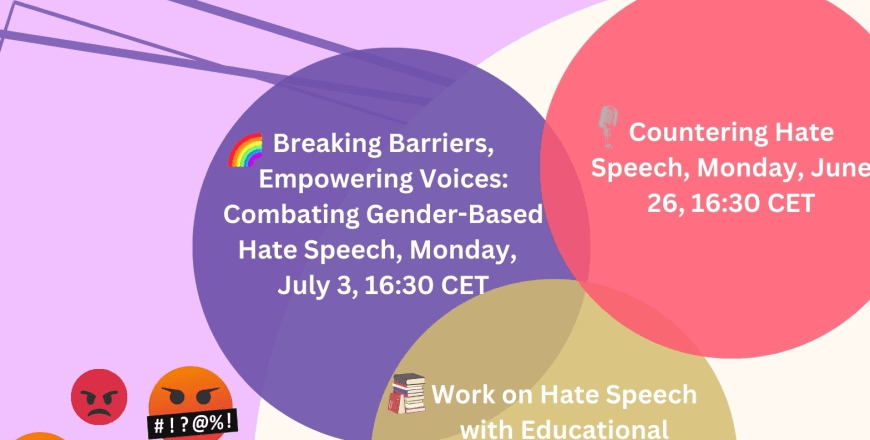 Welcome to the webinar on Countering Hate Speech, organised by the Symbiosis – Council of Europe School of Political Studies in Greece!
Course Overview
This three-week programme aims to provide participants with a comprehensive understanding of the various aspects of hate speech and equip them with effective strategies to combat it. By enrolling in the Symbiosis E-Learning platform, platform, you will have the opportunity to engage with renowned speakers and experts, gaining unique insights and experiences in this crucial topic.
Importance of Countering Hate Speech:
Hate speech poses a significant threat to the fundamental principles of equality, human rights, and social cohesion. In today's interconnected world, where communication channels transcend geographical boundaries, hate speech has the potential to propagate rapidly, fueling discrimination, hostility, and violence. It fosters a climate of fear and intolerance, leading to the marginalization and exclusion of individuals and communities.
Understanding the dynamics and implications of hate speech is of utmost importance. Through this webinar, we aim to shed light on the underlying causes, consequences, and manifestations of hate speech. By examining its impact on individuals, communities, and society as a whole, we can collectively work towards developing effective countermeasures.
Webinar Format and Requirements:
This three-week webinar will be a combination of synchronous and asynchronous sessions. Speakers and experts will deliver live presentations, fostering interactive discussions and addressing participants' queries. To participate in this webinar, participants need to be enrolled in the educational platform where the sessions will be held.
Throughout the programme, participants will have access to relevant educational resources and training materials to supplement their learning. Each week, participants will be encouraged to complete and submit assignments to reinforce their understanding on the topics covered.
Speakers bring a wealth of experience and perspectives from various backgrounds, including academia, human rights organisations, civil society, and intergovernmental institutions. They will share their insights, research findings, and practical strategies, offering you a comprehensive understanding of the subject matter.
Participants will gain a comprehensive understanding of the multifaceted nature of hate speech and acquire effective strategies to combat it.
LESSON 1
2
Quality journalism & countering hate speech
3
Hate speech incident report
LESSON 2
1
Breaking Barriers, Empowering Voices Combating Gender Based Hate Speech
2
Hate speech incident report II
LESSON 3
1
Hate speech online identification, reporting and related challenges
2
No one is born to hate: Addressing hate speech through education
3
How to address online #HateSpeech with a human rights-based approach?
5
#PSOFOS: Hate speech on Social Media | SOCIETY UNCENSORED